ELECMI announces its first international webinar dedicated to electron microscopy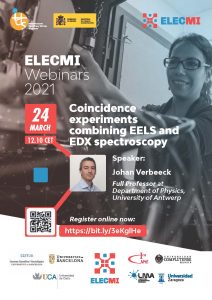 Next Wednesday, March 24, at 12: 10h, we are glad to announce the First ELECMI international webinar.
Speaker is Prof. Johan Verbeeck from the University of Antwerp (Belgium) who will give the talk entitled "Coincidence experiments combining EELS and EDX spectroscopy". The conference is free and can be followed online at ZOOM.
At ELECMI we are experts in Electron Microscopy. Our state-of-the-art equipment is available both for researchers and industry, and we support its use by offering advice and consultancy for the analysis, characterization of materials, and development of new products.
In this context, we are glad to announce a list of webinars for 2021 with national and international speakers at the highest level in their field.

SUMMARY
1st ELECMI international webinar
When: March 24, 12:10 a.m.
Speaker: Prof. Johan Verbeeck, " Coincidence experiments combining EELS and EDX spectroscopy "
Link: https://bit.ly/3eKglHe
Abstract: ELECMI INTERNATIONAL WEBINARS 2021 24th MARCH